Visions and Values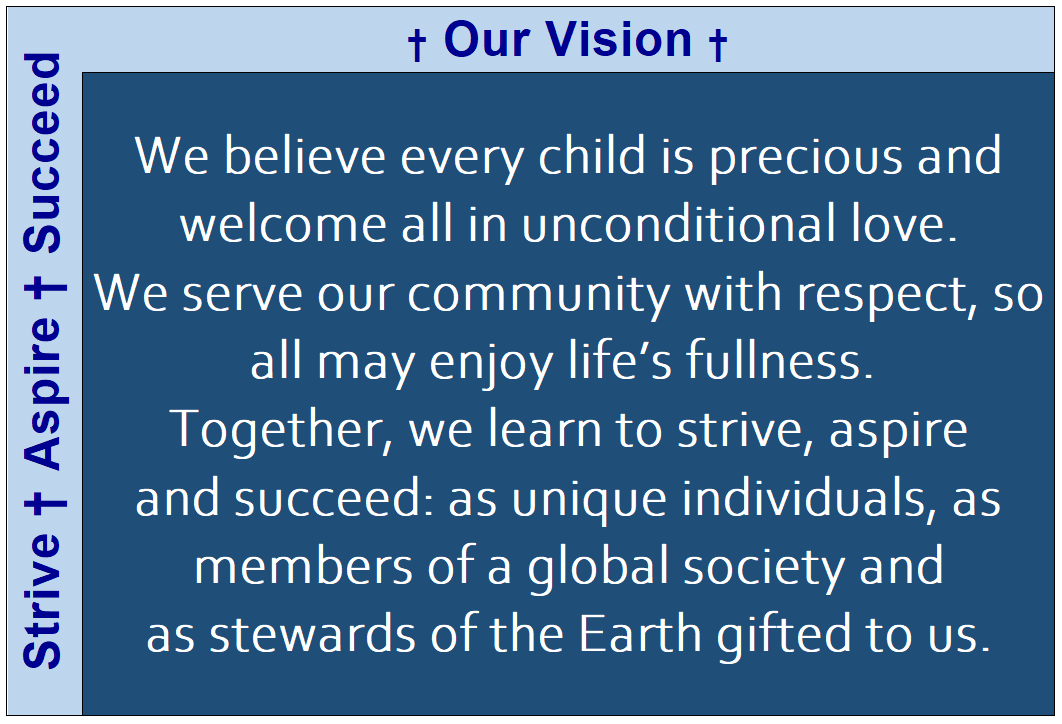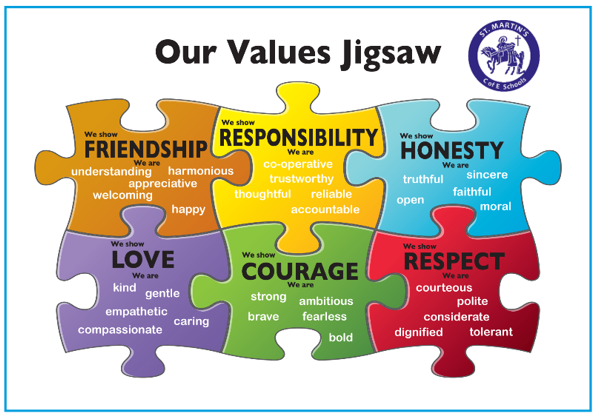 Inspired by St Martin, who served others in unconditional love, we welcome all to learn and to grow in our nurturing and happy school. We are proud of our six Christian values, which embrace each precious individual as part of our unique and inclusive community. We help each other to experience the fullness of life and to become the best that we can be.

Together, we strive, aspire and succeed: we work with resilience, we dream big and we flourish. Like St Martin, when we go out into the wider world, we add to its richness through the many gifts and skills we have to share.
Our six Christian values underpin our curriculum, enhance each curriculum area and are evident throughout the school.
Friendship
We appreciate each precious individual and so good friendships flourish. We welcome everyone into our harmonious, happy school where we have fostered strong relationships with our whole community. Through developing a greater understanding of each other and our world we are preparing for and growing our understanding of our role in our wider community.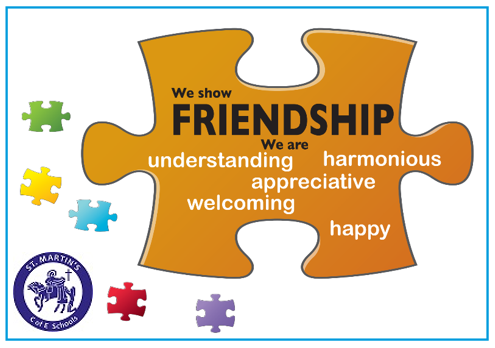 "And as you wish that others would do to you, do so to them."

Luke 6:31

How have you been a good friend today?
Love
We create a happy, nurturing, inclusive school community where we are kind and gentle. We are embraced as precious individuals and all of us are valued and encouraged to develop a love of learning. Through our restorative approach we are taught to be caring and develop empathy. We provide opportunities to experience the fullness of life and wonder at God's magnificent world.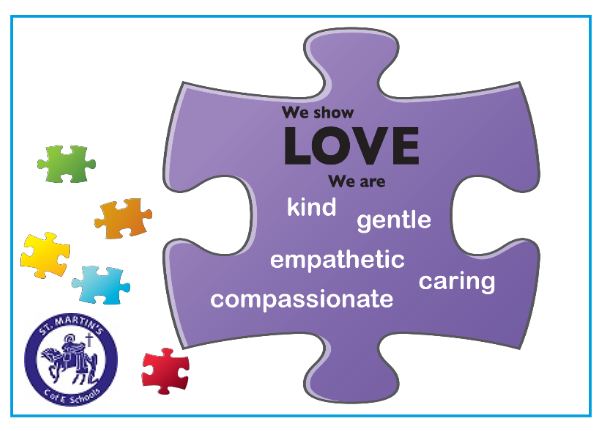 "Love is more important than anything else. It's what ties everything completely together." - Colossians 3:14

How did God show his love for the world?
How do you show your love for others?
What can you do today to show love to other people?
Responsibility
We learn to take responsibility. We are independent learners who are taught to take responsibility for our own learning and so become the best we can be. We are reliable and cooperative which means we are depended on to support others and serve an active part in our school community. We take responsibility for our own behaviour and are thoughtful of other's feelings, values and beliefs. Our restorative approach to behaviour teaches us the importance of telling the truth and helps us learn to be accountable for our own actions.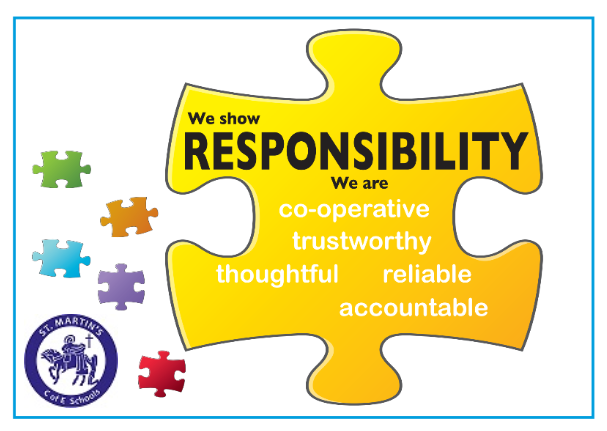 'God said to human beings, "Fill the earth with people and look after it. Care for all that I have made."' - Genesis 1:27

What is our responsibility to care for God's world?
How can I behave responsibly today?
Who relies on me to act responsibly?
Courage
We foster self-belief. We embrace and learn from new challenges even if this means we need to be brave. Because we learn about important issues, we know we sometimes need to be bold to stand up for what is right; we develop inner-strength to deal with real-life situations.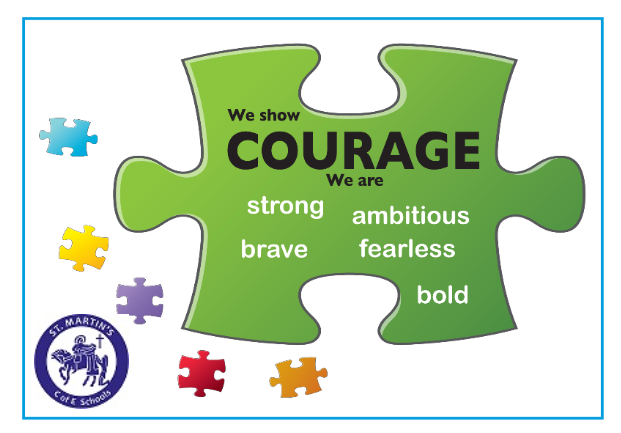 "I am the Lord your God. I am holding your hand, so don't be afraid." - Isaiah 41:13

How was Jesus courageous?
What helps people to be courageous?
How have you shown courage today?
Honesty
We are honest about what we can do and open about where we need support so all can succeed. We have strong morals that guide us to do the right thing, even when no one is watching. We are truthful with ourselves and others. We have strong and sincere relationships with one another and value faithful friends.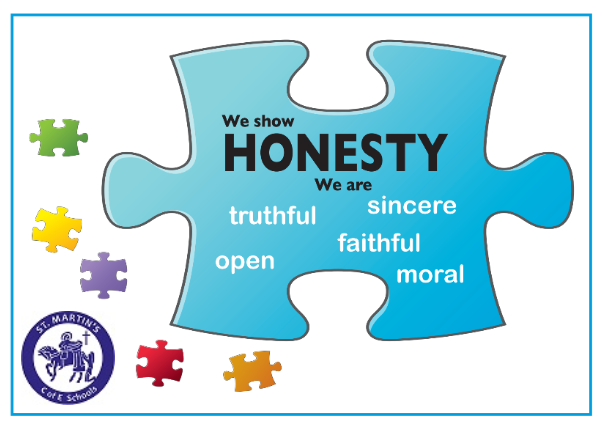 "It is better to be honest and poor than dishonest and rich." - Proverbs 16:8

Why is it important to be honest?
Respect
We are inclusive and respect everyone's right to learn and develop their good learning behaviours. We are courteous and polite to everyone and demonstrate good manners. We respect the needs and rights of others, as a member of a diverse society and, although we may not share the same beliefs and values, we show tolerance.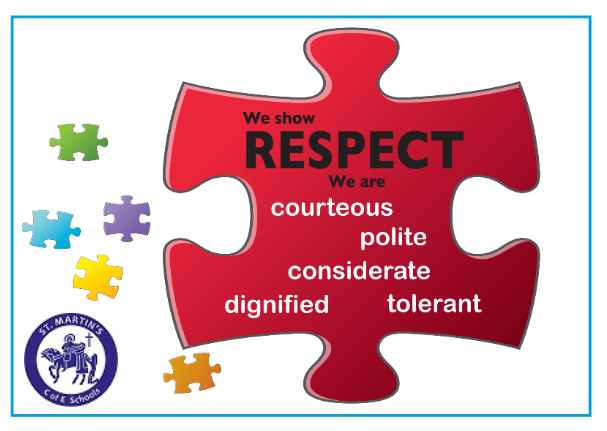 "Try to earn the respect of others." - Romans 12:17, paraphrase

Who do you respect and why?
What sort of behaviour earns respect?
What do you do to show you respect someone?